Chloe's Soft Serve Fruit Pops coming to Livingston!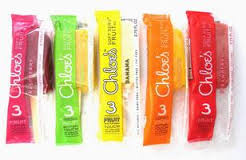 I live my "eating" life like this : 5 days pretty strict and 2 days (Saturday and Sunday) enjoying every minute. I will tell you it's not easy. Especially when I go out a lot of Thursday nights and many of them consist of Birthday dinners.  I try my best but I am not perfect. The hardest part is dessert. I always have to have SOMETHING after dinner. I eat Skinny Cow desserts but I don't like that they have ingredients I never heard of, like "Locust Bean Gum". Do you know what that is? I have no idea!  So I was at a friend's house last week and she was like YOU HAVE TO TRY THIS!!! I was like, "try what?" She said "Chloe's Soft Serve Fruit Pops"! I said "What is that?" I don't eat dessert until after dinner so I was hesitant.  She was like, "just try it". So I did. Now I am obsessed. Dessert with 3 ingredients (Fruit ,Water and a touch of Cane Sugar) and 60 calories a bar. HOME RUN!
It is literally having a piece of fruit for dessert and satisfying the sugar tooth without eating junk. Perfect for summer and perfect for any diet! So where do I pick these bars up?? Well…their store is in the city. They have a whole Soft Serve Bar in Union Square on 17th street BUT guess what? They are making a guest appearance this Friday in Livingston, NJ. Their truck will be stationed from 12 – 2 at 22 Coventry Road this Friday June 21st!! They will be selling the pops $42/per case of 24. Can't fit 24 pops in your freezer? Split a case with a friend! They are just $1.75 a pop! They are All Natural, Dairy Free, Gluten Free, Vegan and Kosher Pareve. Seriously, they are the healthiest go to snack of the summer!!  You can either buy them in a case of one flavor or a case of mixed flavors. The flavors are Banana, Strawberry, Tangerine, Raspberry and Mango. I can't believe they are making the trip out here Friday  but I am ecstatic. I hope I can fit 2 cases in my freezer because I know my family will go through these like wild-fire.
So you want to come Friday? You must pre-order first!! Click here Chloe's Soft Fruit Pops and order!
See you there!