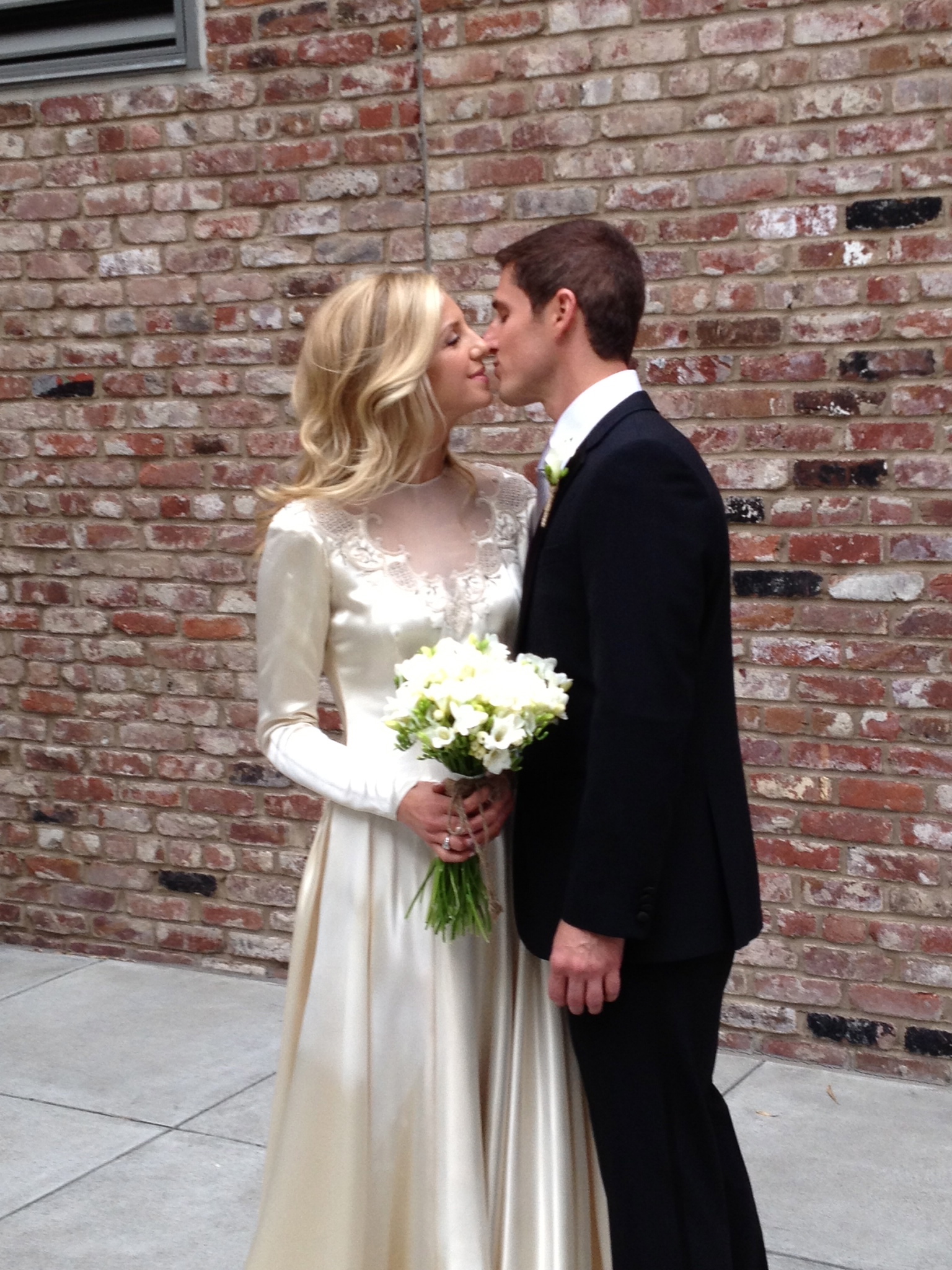 I have been to a lot of weddings, really, A LOT. But I have been out of the wedding circuit for quite some time and I'm not sure if this weekend was as crazy as I thought it was or this is the new norm. I'm going to fill you in on this lengthy weekend and you can tell me if this just set the bar for the most incredible wedding ever. The craziest part –  it was my brother's.
We got off the plane and literally went straight to the  A's/Giants Game. (This was Thursday).  My kids  asked me every 10 minutes on the plane ride, which was a nice 6 hours, if they could get a Giants Flat Hat.  The thought of traveling 6 hours home without it was NOT an option.  All I wanted was to get off the plane and get the hats. So off to the ball field, my brother met us with some friends and fam. If you haven't been to a baseball game in San Fran, I highly recommend it. The stadium is beautiful and the nicest part was there is a section you can watch the game if you don't have tickets. We were not in NY!
My brother seems to have crazy connections to people I don't know. Somehow this girl, who I believe he went to college with pulled through and got us 15 seats and HATS! Nothing made me happier than to see these hats, except guess what, not flat! ( by the way – what's the deal w the flat hats. Could be the worst trend ever! My 6-year-old looks like a player). So I now have to promise my kids, after getting free hats from this very generous girl, I would buy them these flat hats. I felt like it was going to be my mission for the weekend (not that I didn't have enough on my plate).
Anyway not only did this girl hook us up with the seats and hats, she set the wedding weekend off congratulating my brother and Jayme on the stadium screen.
Now if you remember from my previous post, we got an invite to the Rodan's house for a dinner party in honor of my brother and Jayme. We left the park at 4 and had to be on a bus (with 15 other people) by 6:15. No time for a blowout, etc. I was smart enough to have Troy, most amazing blowout in town, come over the night before to take care of that business. Greg is still asking me why that needed to happen but there was no shot I was showing up without a blowout. I tried to sleep standing up but no such luck.
I got a sitter from a relative before we came to Cali. She seemed great and we were off. 25 min drive. I wish I had a picture of their house. It was absolutely breathtaking.  In San Fran you can have these magnificent plush backyards where you can entertain all year. We just can't do that at home. We get 3 short months – 4 if we are lucky to really entertain outside. I want to say this first,  Rodan's – nicest people ever! All their friends just as nice. I felt like all their friends will be us in 15/20 years. Just a really fun, tight group of friends who have  been friends since their kids were small. The spread – let's just say they had a cheese connoisseur, honey that literally came out of a bee's nest, freshest strawberries ever, wine sommelier. House was just magnificent. I'm still dreaming about the light over their dining room table. Oh  and the dining room table. They had a jazz band playing outside ( another sweet touch). It was at this party I had a new-found love for Jayme's father. I had NO idea he was an accomplished musician. He sat down to play piano and I was floored, who knew! (by the way – the tree in the picture is a Redwood! Can you imagine having a Redwood tree in you backyard? Need to move to Cali for that!)
I thought the nicest part of the evening was that Greg and I got to meet Jayme's parents close friends in a nice, intimate setting before the actual wedding. You know when you go to a wedding and there a bunch of random people you never saw before and you smile and walk by? Well this gave us the opportunity to really get to know her parents friends before the wedding day. Great idea! Keeping that tid bit of info in my back pocket for when my sons get married (wait is that not happening because I have boys?!?!). Their chef baked all the desserts. One was better than the next. Even the cherries were spectacular!
It was a really special night and I am so happy Greg and I could both be there.
The next morning some of the bridesmaids went to Dry Bar for a blowout. I knew when I saw the girl who was doing my hair I was screwed. Now, I am not one to judge a book by its cover but I just knew. Worst blowout ever! To make matters worse,  my mother, who was supposed to watch my kids so I didn't have to schlep them across San Fran, slept through her sitting session and I had to drag them with me. A 6 and 9-year-old at a blow bar is not ideal BUT when the girl, who is giving you a blow out,  takes an hour, yes AN HOUR, what do you want my kids to do? The receptionist comes up to me as the bad blowout girl is drying my hair (45 minutes in) and says, " I just want you to know your son has taken the hair bands and he is putting them up his leg, you are going to have to pay for them". First of all, she must be kidding. The receptionist has one job, answer the phone while you sit up front. The hair bands are sitting next to her on the counter. A bright young lady would notice that a) I can't see my kids from where I am sitting and b) my son is 6, he doesn't know you have to buy these hair bands.  Maybe if she was smart she would have just said to him, "sweetie, please put them back, you have to buy them". Instead she watched him take them from the counter, play with them and when he decided to put them up his legs, this was her chance to walk up to me and tell me what my 6-year-old was doing.  Seriously!? Maybe if the stylist wasn't taking an hour to give me a blowout my kids would not be climbing the walls! By the way, my kids are pretty good…just sayin. Yes I wound up having to buy them and the most annoying part was they took the ugliest ones so I can't even wear them!
Next stop – Bridesmaid Luncheon at the Rotunda at Neiman Marcus
Jayme's aunts were so kind to throw this beautiful luncheon. Picture the cafe at Neiman's in Short Hills that some of us lunch but this one had a private room. Table was perfectly decorated with each of our place settings.
Funny to see all the girls from the Bachlorette party again… We were all reunited and I was hoping nobody was going to bring up my blog entry from that weekend. Thankfully nobody did. Jayme gave us each a beautiful bridesmaid gift which were stunning earrings to wear with our dress and this beautiful handkerchief for the tears. (Good times was the "theme" of the wedding).
Beyond nice and so thoughtful! Mini Cupcakes were perfectly made for the luncheon.
While we were at the Luncheon the boys were playing golf.
They had a golf tournament and can you believe my husband won closest to the pin? I didn't even think he could golf! (just kidding honey)
After lunch I ran to the salon in the Four Seasons to have my horrific blowout fixed. They did such a good job I wish I had went there first! Would have saved me so much time and energy. Such is life….
So now it's 3:50 and we need to be downstairs at 4:30 for rehearsal. My younger son is passed out because the time change is killing him. Anyway….I'm bugging about my speech ( feel like it's not long enough and want to add a few things but no time). I run downstairs with my older son who is getting a ton of attention. Rehearsal time. They decided to have a wedding in the round which is such a great idea! Bridesmaids/Groomsman come in from 4 different doorways and sit "in the round" around the Chuppah. My younger son and Greg were still upstairs but on their way down. The wedding coordinator, who is trying to direct everyone, is going through all the names, etc. I shout out that my husband and other son will be down in a few. She turns to me and says " Excuse me, who are you"? All I want to do is laugh because she fully just embarrassed me in front of 28 people but I look at her and say, "I am the grooms sister, did you just call me out in front of everyone?" SPEECHLESS. You could hear a pin drop. Moving on…
It's time for the Rehearsal Dinner. 280 of their nearest and dearest friends will be joining us. I would say this was the wedding before the wedding. I shit you not, there was an HOUR cocktail hour before we even entered the room. The theme was Mexican and the attire was "Festive Cocktail". I would say there were some VERY festive outfits! As much as I would like to post them, I think I would be banned for life for blogging. So we move inside and ON EVERY TABLE was an incredible menu designed with a detailed description of each Bridesmaid and each Groomsmen. You must look below!
What I didn't add is that they had a moustache on every menu symbolizing Greg's dad, Ron who recently passed. It was such an honor and a really remarkable way to remember him. Here are my kids with the stache's!
You can see in the background the table settings.  Speeches were great, I got my kids upstairs, and the fiesta began! Did I mention they had a DJ at the rehearsal dinner?
As the music started and everyone really drank, people got drunk. We all know what happens when people get drunk. They let loose…. so there was A LOT of dancing – even on tables!
I have no idea when the dancing stopped because I went up at 11 (which was 2am in New York) and passed out! But I just realized I forgot to mention on my way up I ran into Katie Rodan – she is really some woman! Her skin is flawless, I seriously may invest in some of those products!
I also found out Jon McCain's son, James McCain, was also getting married on Saturday night. Mitt Romney was in attendance. Also, Sting and Billy Crystal were staying at the Four Seasons for other reasons. My brother-in-law tried to crash McCain's wedding but he wasn't successful (lol).
The next morning was a scheduled Pilates class with the girls. I missed it because I felt it was my duty as the mother ,who took their kids across country, to at least see a little of San Fran. So we did the cable car thing!
I left my kids and husband by the wharf, headed back to the hotel to get ready for the big day!!! Each bridesmaid had a scheduled time to be in the suite for hair and makeup. I went up at 12:45. On my way up, I get this lovely text from the sitter who we had the past two nights. Her text reads "Hey Amy, I'm so sorry to do this to you but I will not be able to make it tonight, really sorry". SORRY? Is she kidding?? My brother is getting married in 6 hours and you are bailing! WTF!!!! I scramble. First I post on FB because maybe there is someone who lives in San Fran that has a friend who has a friend, etc. Then I have this brilliant idea – concierge! Thank god for the concierge. They hooked us up with a great sitter. I knew we were going to have such a hard time getting the kids to leave the wedding but there was no shot they were staying until 2am (yes they had the band until 2..we will discuss that soon).
So after that stress – hair and makeup! Bridal Suite was SWEET! There were 3 hair stylists and 5 makeup artists. I guess when you have 14 bridesmaid you need mad help.
We each got this fab robe from Hawaii and a really nice delivery of champagne!!
and we waited, and we waited to see Jayme come out from behind closed doors….. and then she walked out. I did not cry through one of the speeches the night before but when I saw Jayme, I lost it. My brother could not have picked someone as beautiful and elegant as his new bride to be.
A little history on this gorgeous dress. Can you believe this stunning dress was the dress that Jayme's grandmother wore to her wedding and then her mother wore to hers?! (see below)
Just amazing right!!! She did change after the ceremony…dress to be shown soon (its a floor stopper!)
Jayme & my brother met before pictures and the Bridesmaids got ready…. After that was pictures (the dreaded pictures but a necessary evil).
These were all the groomsmen and my handsome kiddies
These were some of the bridesmaids. I don't have a shot of all of us because seriously, Why would these girls want me in their photo? I am the old sister – like the fat sister-in-law in Bridesmaids, remember her? So here is a picture of the skinny bitches all dolled up!
Time for the ceremony. It all went as planned. The Chuppah (for all you Jewish peeps who know what that is) was simply the prettiest Chuppah I have ever seen. By the way – The  "Chuppah" is the shelter of branches that were hanging over Jayme and Adam during the ceremony. It represented the home they'll build together (for those that don't know what it means).
All the Ahh's came when these 3 cuties came barreling through the door…
and then my brother and my parents
and then my future sister-in-law and her parents
It was a beautiful ceremony. Half way through, Jayme's dad got up to play piano while the Cantor sang a song to them. Adam broke the glass and then OUT OF NOWHERE all four doors open, where we all walked in, and in comes a  New Orleans Band (literally straight out of Mardi Gras). Nobody was expecting it at all! It was off the charts!! You just had to be there to really experience it but it was something!
The band marched down the street of San Fran to the reception behind Adam and Jayme. They played as each guest entered. For those that bussed to the venue, there were "roadies" on the way out of the ceremony of mini champagne bottles and straws! Jayme's mom did not miss a beat!!
We headed over to the Metreon. The cocktail hour was on the rooftop which was absolutely breathtaking! I knew my brother and Jayme wanted an extended cocktail hour as we all know the best food is served during that hour. Plus the goal is to have everyone fed so once they are ready to move inside all they want to do is dance! This was a huge group of partiers and I knew that would not be a problem.
Selling girls unite!
Let's discuss the food at the cocktail hour…. they had everything from fried zucchini cakes to lamb chops to lobster rolls, to spaghetti, to chicken rolled in granny smith apples to cheese balls to the most incredible sushi you have ever seen! LOOK AT THIS SUSHI BAR!!!
I was very happy just eating that for dinner! Jayme had changed out of her wedding dress into the most chic dress I have ever seen. The one picture I have is in black and white so you can try and get an idea. It was all white and the sides were gold sequined. Just magnificent!
Time to move inside. The band was off the hook! 14 Black men singing, playing the horns, drums, key board, etc. I don't think anybody got off the dance floor! The centerpieces were gorgeous!
The wedding would not be complete without the hora and the cake!
As for the cake, Jayme is obsessed with Funfetti cake. She could not find anyone to make it for her wedding and the person that said they could make it wanted to charge over $2k! She decided to donate the money to a wonderful cause and a friend of hers actually baked a homemade Funfetti cake that she was so excited to dive into!
Can you believe at 12pm there was an entrance of desserts? You cannot even imagine!! They had San Francisco Cheesesteaks, Philly Soft Pretzels, Lobster Rolls, Ice Cream Stations of Mocha and Caramel on moveable carts . My kids would have been so pissed if they knew what they missed!!! (They stayed until about 11pm). I wish I had pictures but I don't..booo!
It was such an amazing night. We crashed hard!
We woke up, had to pack and literally jet. Our flight was earlier than we thought and we had to scramble to the airport and miss out on the brunch.  They set up the entire brunch in the room they got married in. They had the parents table under the Chuppah (see below).
Beautiful, right? I heard they had tables and tables of food. Our flight was delayed 2 hours and I wish we had known before we left the hotel. We missed the brunch and it was such a bummer! BUT the weekend was really incredible. I have to hand it to Jayme's mom – she really put together one hell of a wedding weekend. I am still at a loss for words. I haven't even spoken to my friends about it yet because I don't know where to begin. I am hoping they will read this and get the full recap. Adam & Jayme are off on a mini pre-honeymoon before the real thing and I hope they are sucking back lots of cocktails and sun! I miss them already!!!
By the way – don't think I am crazy but I seriously think I could be a kick ass wedding planner! I know it's the most stressful job ever but after living through this entire wedding I now have so many ideas! Could be job number 401!
xx