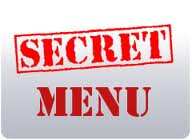 Growing up my husband went to Luger's for break fast (not breakfast, break fast). As in break- the- fast during Yom Kippur. For those of you who do not know what Yom Kippur is – it's the highest holiday in the Jewish religion, you starve your ass off for one day to repent and normally chow on 3 bagels and a platter of fish after sundown.  Greg's parents were divorced and his father, who was super awesome, believed the only "real" way to eat after a day of starving is go Peter Luger Style (a tradition we will all carry out this year). Truth be told I never went to Luger's until I met Greg. I had no idea that you were a fool if you asked for a menu and I had no idea there were things at Luger's that were not on the menu that they cooked (well the bacon used to be a staff secret until Wall Streeters got wind of it and started asking for it – now it's on the menu).
I have recently learned that there are MANY places that have a "secret menu". Maybe you are already aware of this but it is news to me and I thought I would share with you some of my outrageous findings!
All of my research has really led me to "fast food menu's".  I thought I would start with my favorite – Starbucks!
I am not a fancy drinker of Frappuccinos etc. I am a skinny vanilla latte  girl but some of these drinks sound like an incredible dessert! For example this dessert in a cup:
Can you say "Twix Frappuccino"? Seriously I will never try this because once I start there is a point of no return. How do you get this? You order a carmel frappuccino with extra caramel, one pump of hazelnut syrup. You then ask for  java chips and whipped cream blended in and finally  top it off with mocha drizzle. No idea what the calories count on this, nor do I want to.
For all your girl scout cookie lovers who LOVE Samoa's
This is the "Samoa Cookie Frappuccino".  Recipe is basic but it sounds phenom! Mocha Coconut Frappuccino, 2 pumps of caramel syrup and then ask for extra coconut flakes to be blended into the drink. Again, no calorie count here!
Are you a cereal lover? How about these next two?
This is the "Fruity Pebble Frappuccino". I only like Fruity Pebbles on top of frozen vanilla yogurt but maybe this appeals to you? You have to order a strawberry and cream frappuccino with 3 pumps of vanilla syrup, 1 pump of raspberry syrup, and 1 pump of classic syrup. Ask the Barista to throw in a bit of orange mango and there is your Fruity Pebble Frap!
If you are not a lover of Fruity Pebbles but a lover of Cinnamon Toast Crunch, try this one!
Hence the "Cinnamon Toast Crunch Frappuccino"! Sound good? Sounds vile…but if you want it you must ask for it like this: White Mocha Frappuccino with cinnamon dolce, 1 pump of hazelnut, cinnamon sugar blended in and then you must top it off with whipped cream and some cinnamon sugar. Literally sounds like a sugar fest in your stomach.
They also have a Neapolitan, Raspberry cheeseccake, Apple Pie, Cake Batter, Banana Cream Pie, Cookies and Cream, Thin Mint , and Snickers Frappuccinos. Do you want the recipe of any of these? Holler! I will post below if you comment.
Moving on…
Looking for a major pick me up! Like you want to crawl on the couch at work (do you have a couch at work?) or maybe your desk? Try the "Liquid Cocaine".
If you are not jumping up and down after this drink, power to you! Guess what is in this puppy? 4 shots of espresso and 4 pumps of white chocolate syrup. Ask for it over ice in a grande cup and you should be buzzing around the office or home or whatever it is you do during the day.
Have you ever been in Starbucks and your kids want something to drink and you are not sure what to offer them besides milk or a juice box? Try this for summer!
Starbucks Slushie! Turn any iced drink into a slush, slushie or Icee by requesting that your drink be blended together. Strawberry, Lemon, Mocha, they have it! Now just as an aside for any of these drinks you have to order by the recipe. Many Baristas out there will not know what "Liquid Cocaine" is and they may have you arrested!
Taco Bell lover? I used to frequent this joint when I was in high school a million years ago but if you are still a fan, here are some secret items not on their menu:
This is the "Cheesy Gordita Crunch". It's a taco shell filled with ground beef placed inside a gordita with a layer of melted cheese topped with cheese sauce, lettuce and shredded cheese. Wow! This is actually available at very few Taco Bell's on their regular menu but it is available to your Taco Bell if you ask!
The next one I actually remember eating when I was a teen but it has since left their menu:
This is the "Cheesearito". It is made by combining a generous portion of cheese with scallions and taco sauce rolled up in a soft tortilla shell, kind of like that long-lost cousin of the Meximelt (which was my fave thing on the menu at Taco Bell!), but in a meatless version.
They say this next item is legendary in Taco Bell circles… I am not in a circle but maybe you are….
This is the "Hulk". There are actually two versions of this so make sure you clarify which one you want. The simpler one is a regular bean and cheese burrito with guacamole added. This is more my speed but I am sure you are yawning. Therefore they have the fancier version which is a "five-layer burrito with guacamole in place of the nacho cheese." More exciting, I know…
I thought I would talk next about 5 Guys since we are lucky enough to have some in the area and who knows, maybe they will be nice enough to make one or two of these secret items.
I heard 5 Guys has some of the best fries around so why not ask for an extra kick! "Cheese Fries". Expect to pay a big more for your cheese, but it's worth it!
Not a meat fan?
Five Guys does offer a grilled cheese sandwich. But why not dress it up just a bit? Add veggies! You can add any of the veggie toppings the restaurant offers (including grilled onions, mushrooms and even onion rings) to the grilled cheese sandwich. Try the grilled cheese with mushrooms and barbecue sauce…delicious!
Burger variations?
5 Guys has a ton of options when customizing your burger. Try the "Presidential Burger", so named because of President Obama's trip to the fast food chain: A regular cheeseburger, complete with lettuce, tomato, pickles, mustard and jalapeno peppers. Another must for some burger fans: A-1 sauce! Try adding some onion rings and sautéed onions for even more flavorful goodness.
I wanted to add the next few because I have a lot of New York City Peeps who read my blog and MANY of you who work there. So let's talk about Shake Shack!
This is called the "Peanut Butter and Bacon Burger". For just $5.50 and an a somewhat open mind, you can do Elvis proud with this creation. The combination of bacon, burger and peanut butter may sound gross,  but the beef is barely noticeable under all the melty peanut butter goodness.
Arnold Palmer fan beware!
This is the "Shandy". I will give you 3 words: Beer and Lemonade. Sounds disgusting, right? It's delicious! You can order this one by name at most Shake Shack locations! Enjoy…
On a diet?
Shake Shack picked up an idea from In-N-Out secret protein burger. It is basically the same. This is "Protein Style". Ask for your burger of choice without a bun and with extra lettuce. Save your carbs  and use the lettuce leaves as your bun to devour a tasty burger without the guilt.
Hot Dog Fans, Unite!
This is the "Cheese Dog". Ask them to take the hot dog, split it lengthwise and grill it. Slap that hot dog in a warm, toasted bun then top with cheese sauce. The result is melty and gooey deliciousness.
I am going to leave you with some last Mickey D (McDonald's) secrets and then I am leaving you to investigate on your own!
I wish I knew about this when I was a kid! WOOZER! This is the "Pie McFlurry". If you buy a pie, you can actually have it blended into your McFlurry. Definitely trying this after a drunk night out!
Yup, every McD's has these. Just a bun with grilled American cheese inside. So good yet so simple.
Breakfast and dinner?
Can someone say "Chicken and Waffles"?! Can you even believe it? Ask for the McGriddle with chicken inside…. No words here, really! BURP!
There you have it! I have given you some crazy info here. The real DL about the fast food restaurant scene. There are MANY other secret menus such as Jamba Juice, Chick Fil A, Sonic, Dairy Queen, KFC and Chipotle. I would be here for 3 years writing this if I covered them all but I thought it would be a fun thing to read going into this long weekend, maybe you will even stop and pick up one of these creations?
Do you know any other secret menu items? Please comment below if so!