Pairings – Sweet Dinner spot!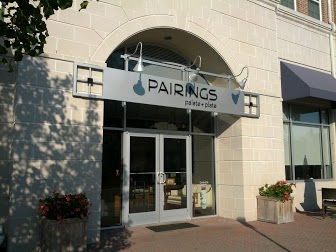 I have never been to Cranford, NJ before, have you? I must say its a very cute town and a town I probably would not have driven to had I not been told I MUST go to this restaurant. A restaurant called Pairings. I know you are thinking that they pair the food to wine but it was really about how they "pair" the food.
At first thought I wish it had a bar but there is something nice about BYO. It manages the bill and you can bring your favorite bottle of wine. We were greeted when we walked in by the manager, Brian, who could not have been nicer. I guess when I made the reservation awhile back I made it for four people. They took us to the table of 4 and I was like "Umm, It's just the two of us". So they moved us to an amazing corner table upfront which was perfect.
The restaurant had a great vibe that was clean, upscale with an open kitchen that made it feel inviting.  We were told that the premise behind the restaurant was everything was made from scratch. From their breads to their pastas, sauces and desserts everything is homemade and handmade!
The waiter brought over a complimentary amuse bouche which was a grape wrapped in chevre cheese. I don't have a pic but it was DELICIOUS and so was the bread that accompanied that fine starter.
We ordered two appetizers to share – a beet salad in layman's terms or as they call it "beet + spinach salad + California Humboldt fog (yeah no idea what that is but it's explained here):
"an elegant, ripened goat cheese, onions, beet puree, pistachios, basil vinaigrette". If you love beets and goat cheese – get this! It's a winner.
We also got  the golden gnocchi + roasted tomato-broccoli ragout  but we substituted the gnocchi for fettuccine because I do not like gnocchi. It was described on the menu as "macadamia pignoli pesto (YUM), fresh mozzarella, mushrooms, white truffle oil, pecorino romano".  I mean if you are not starving after reading that I don't know what to say. It was FABULOUS! Like I could have eaten just that for dinner and would have been a very happy girl. (bad pic below but you get the gist)
For our entrees my husband got the duck. I do not eat duck (just the word itself is weird….chicken acceptable, but duck, no). I asked him how the duck was and his answer was " I liked it but I have had better". He was more focused on why I don't eat duck and why most women don't. My husband overheard the woman behind me say she didn't eat duck either. He thinks there is some connection with women who don't eat duck and women who live in Livingston (apparently this girl was from Livingston as well). I think that is just crazy ridiculous.
Anyway, I got the sesame crusted ahi tuna with green onion wasabi sauce. It came with a sweet and sour sticky rice cake, apple – ginger salsa, roasted radishes, asparagus, sugar snap peas and edamame. It was super yummy if you are a fan of tuna!
As you know I am not the world's best photographer but hopefully this will give you an idea.
So moving onto dessert… there were many options like the chocolate lovers souffle cake, the peanut butter mouse tart, and the new york cheese cake. I let my husband pick because I had taken him to this restaurant for his birthday. He picked the 2 scoops of ice cream – brown butter and dulce de leche.  I had called several weeks ago to make the reservation and I specifically asked for a candle in whatever dessert he chose. I was hoping and praying that they would bring the dessert out with the candle. I didn't feel the need to remind them since I had asked them to mark it down. Unfortunately the ice cream came without a candle. It was delicious but I was disappointed they forgot. Shit happens.
Overall I was very happy with our dinner. The service was pretty good, the food was great and I really enjoyed the atmosphere. I would definitely recommend it and I am sure we will be back this summer.
Let me know if you go!
 Pairings, 1 South Avenue East, Cranford, NJ 07016. 908-276-4026