Likewear, Kids love to wear!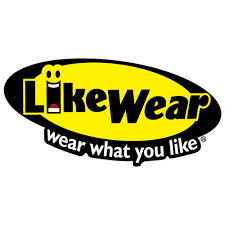 Travel Soccer is Wednesday and Friday's. I carpool to make my life somewhat easier. So last week I picked up my son's friend and they were busy chatting in the back on the way to soccer. I overheard him say that he just got these awesome new lacrosse shorts at "Likewear". My son says, "MOM, I have been asking for these shorts for 2 months, can we please go?" Funny that my kid is now starting to gain his own sense of style and is now requesting items of clothing he must own! I thought Likewear was only for girls, clearly I was very wrong.
He got these:
To give you a little background, Lisa Gold and her husband, Ken, started Likewear 5 years ago in their home. They got the licensee rights to some awesome candy companies plus they started designing their own images on blank goods and incorporating the images on shirts, shorts, sweatpants, accessories, etc.  I used to see Lisa at the temple shows and around town. The line has been doing so well they opened a flagship retail store in Livingston. Today they have expanded their line to include camp goodies, kids fun underwear, hoodies, soffe shorts, adorable bags and so much more!
Love this sleepover bag! ($45)
girls cute underwear too!
Everyone needs a camp hoodie!
The pinnies are one of my favorite items this spring. They make them with rhinestones for the girls ($44.95) and plain for the girls/boys (great birthday present – $29.95-36.95)
shorts are cute too!
My favorite part about the store is the Custom Bar.
Kids can pick out a clothing item, their favorite design and then can hang while the professionals make it . Kids LOVE this! Its actually an awesome place to have a Birthday Party for a small group of kids. They can shop and make an art project all in one.
For example, you can pick out this design:
pick out this tank and have design put on!
Super cute, right? ($25!) Makes a great gift or a perfect tee for camp. Unfortunately I do not have any girls in my casa to give this awesome tee to so I will be giving this as a gift (lots of summer birthdays!).
But I could make this performance tee and pick out my son's camp! (no, this is not his camp but big Philly camp!!! Woohoo!)
Lisa has an amazing concept and the word has really caught on. You know when your kid starts telling you they need to go somewhere in town, IT'S HOT! Likewear will always be a kids favorite hot spot because Lisa was very wise when she thought up this genius idea. When you carry what a kid likes to wear and they can actually design it themselves you have made both the parent and the kid happy. There is nothing better than that! You should definitely stop in and check out all the fun things for spring/summer. She has a book of over 300 images to choose from. There is a design for every kid. The sweetest part is if you mention you read this blog "Lulu and Lattes", you will get 10% off your entire purchase!!
Happy Shopping
Likewear , 142 S. Livingston Ave, Livingston NJ 07039, 973-535-5654
Store Hours
Monday – Friday: 10am – 5:30pm
Saturday: 10am – 5:00pm
Sunday:  Closed