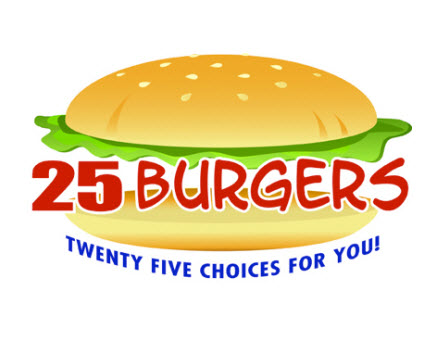 I don't love fast food and it does not love me! Growing up my parents went out every Saturday night. They  usually picked up McDonald's for my brother and I. I always ordered a Big Mac and fries. The joy of being young! Today you could not pay me any amount of money to eat such a thing. After reading Fast Food Nation, I am traumatized plus there are about 1 million calories in a Big Mac. The fast food industry has come a long way though, since I was young. There are so many more options unlike the traditional burger and fries. You can now choose from over eight salads at McDonald's.
Yesterday we were in Fairfield, NJ for my son's soccer tournament and we were starving! We looked on "FoodSpotting" (awesome app if you don't have it) and found 25 Burgers. My first question was "what can I eat there"? Apparently they had veggie and turkey burgers. I was in. A little history about 25 Burgers. They opened their first location in the spring of 2009 in Bound Brook, NJ (no idea where that is). Since then, they have opened 7 locations and 2 more are in the process of opening all in New Jersey. Their concept is making "Fresh Made to Order Gourmet Burgers in a Clean and Friendly Environment. "25 Choices for You" means there is a Gourmet Burger for everyone! All burgers are 100% USDA Certified Angus Beef, Fresh never Frozen and Fresh Baked Buns are made everyday in their kitchens.
I got the "Athen's Veggie Burger"
This burger is the original Dr. Praeger's Veggie Burger with Feta Cheese, Cucumber, Tomato & Red Onion on a Fresh Baked Multi Grain Bun with Tzatziki Sauce on the side (you can order it with it on the burger). I skipped the bun because I have my brother's wedding in 4 weeks and I am on a massive diet BUT the burger was pretty good  (and bread looked great)!
My husband had the Turkey Burger with Cheese
This was Lean Fresh Ground Turkey with Provolone, Lettuce, Tomato and Sweet Mayo on a Fresh Baked Multi Grain Bun. He said it was pretty tasty! You can order it with Turkey Bacon as well (which is Oscar Meyer Brand Turkey Bacon).
My kids had normal kids meal (hamburger and cheeseburger). They both said they liked it better than SmashBurger… I was surprised because I think SmashBurger (for fast food) is one of the best burgers place in town.
I will tell you that 25 Burgers has some creative burgers such as :
"Bullseye BBQ Burger – This has crispy onion straws, Bullseye BBQ sauce, Cheddar Cheese, Lettuce, Tomato and Mayo baked on a Miami Onion Bun.
"6 Alarm Burger" – This one has Fresh Salsa, Jalapeno's, Hot Peppers, Chipotle Sauce, Pepper Jack Cheese, Lettuce, Tomato, with Chipotle Mayo on a Fresh Baked Bun.  I think my mouth would burn for days and I would need a bottle of Tums after eating this but this burger is definitely for someone who likes a kick!
"Rueben Burger" – Forget about going to your local deli, here you can get a Rueben on a burger. This has Hot Pastrami, Swiss Cheese, Sauerkraut, Russian Dressing and Pickle Chips on a Fresh Baked Bun.
"Pot Roast Burger" – Heart attack on a plate but …. Tender Slow Roasted U.S.D.A Choice Beef Topped with Sauteed Onions, Cheddar and Horseradish Sauce on a Fresh Baked Miami Onion Bun. (sorry no pic but you can just imagine).
There are many more options whether you desire chicken, beef or veggies. They also have sides of Boardwalk Fries, Cheese Fries, Sweet Potato Fries, Chili Cheese Fries, Onion Rings, Cole Slaw and Potato Pancakes.
Stop in and check it out… Like I said, I am not a fan of fast food but if you want to try a mean burger get in the car and go!
25 Burgers, 418 Fairfield Road, Fairfield, NJ 07004. 973-808-0025