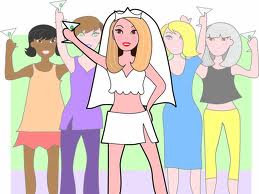 Tomorrow I will be heading to Austin for my brother's fiances' Bachelorette Party. GD HELP ME! I will be staying in a lake house with 28 girls all under the age of 30!  I am not really sure if there is a place for me to sleep or even if I will sleep because I read the house only sleeps 20. These twenty something year old girls have been talking about this shindig for 6 months. I am quite nervous to say the least. They even named the weekend "JFBP2K13". Her first initials, Bachelorette Party 2013.  I feel so ancient when I open the emails and I can't decipher them… for example:
"I just spent 20 minutes pre-arranging my arm parties to coincide with each outfit bc god knows I won't be sober enough to do it in Austin".  Arm party?? Are those bracelets?
and then there was this one:
"Once in Denver let the shenanigans begin with pork buns for dinner with Simps and Xands. Xands seriously might hide in my carry on".
Simps and Xands?? Simps – anyone?? no idea…Xands? Is that Xanax?? AGAIN I FEEL LIKE A DINOSAUR!!!
I can't wait to post pictures on Monday but you can think of me "Old Mother Hubbard" with the skinny bitches on a Party Barge somewhere in a lake in Austin. If I don't post on Monday it means I didn't make it back alive.  Wish me luck! YEE-HAW!