Philly Pretzel Factory….Yup, Coming To Livingston!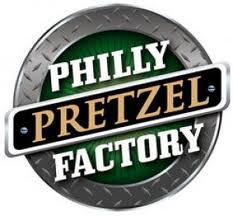 Livingston has been taken over by Yogurt stores.  Literally TAKEN OVER! Between Yo Fresh (that used to be Twist It) to Swede's to Frozen Yogurt in Shop Rite, it's down right ludicrous.
Like doesn't somebody get it?…NO MORE FROZEN YOGURT!
Well somebody did. They decided to open "Philly Soft Pretzel Factory". It's opening next to the Beauty Supply Store on Mt. Pleasant Ave (next to Starbucks).
How in the world is a Soft Pretzel Store going to make it?? Well they do have over 100 franchised locations. They mix only the finest pretzel ingredients and hand twist each and every pretzel to ensure "quality and freshness".  Plus they have a pretzel "menu".
Lets see what we will find when we walk in:
Real Pretzels – classic served "Hot Outta the Oven" at a perfect gold brown.  They are available in traditional, unsalted and assorted seasonings & flavors. The classic pretzels are 145 calories, 0g fat and a whopping 7g of protein!  (good snack, right!) Yeah but guess what the serving size is? … ½ pretzel. So you can try it but only eat half!
Mini Pretzels – served with a twist in a miniature size. Served in rows of 5.  Here you can have 1 mini  pretzel for 145 calories, 0 fat and 7g of protein and you can eat the whole damn thing!
Rivets – you know the pretzels you get in the movie theater. The bite size nuggets.  They are available in both individual snack size and large sizes to please the whole family. These are a great kid snack. You can try them with any of their signature pretzel dips ( Yellow Mustard, Spicy Brown Mustard, Melted Cheddar Cheese, Honey Mustard, Cream Cheese, Cinnamon, Chocolate & Butter Cream)                                                         1 salted Rivet is 38 calories, 0g of fat and 1.75g of protein.
Cheesesteak Pretzel – these are pretzels stuffed with real Philly Cheesesteak. To be frank, these sound vile! But I guess there are lovers out there. I guess their thought process behind these were to marry 2 of Philly's most iconic foods (The Cheesesteak & The Pretzel).  Let me know how these are…I am def not eating one.  1 Pretzel is 340 calories, 8g of fat and 23g of protein.
Pretzel Dogs – These are hot dogs with melted American cheese wrapped in their pretzel dough. WOW!  I am not a hot dog lover so I have no opinion but I have a feeling if you are a hot dog lover these sounds pretty great.  1 Pretzel Dog is  250 calories, 18g of fat and 12g of protein. Maybe a quick lunch for someone??
Spicy Pretzel Sausages – These are Dietz & Watson all beef spicy sausage with melted American cheese wrapped in their pretzel dough. Again, WOW! Sounds like a heart attack in a pretzel but I am sure there is a reason this is on their menu. 1 Spicy Pretzel Sausage is 350 calories, 28g of fat (ouch!) and 17g of protein. My husband will be first in line for these…
Cinnamon Pretzels –  These are served "Hot Outta the Oven" and coated with a perfect mix of cinnamon and sugar. Now we are talking!!! Love these! ½ pretzel – 155 calories, 1g fat and 7g of protein
Custom Pretzels – These are pretty awesome! Are you having a party?? They can custom make any pretzel you want – numbers, letters, names, hearts, years, fund-raising ribbons. You think of it, they create it! BRILLIANT!!!
Ok so I drove by this place and was like nope, won't make it. But I have to you tell after my lengthy research, The Philly Pretzel Factory may be here to stay. Let's hope so! COMING SOON!
Philly Soft Pretzel Factory, 21 W. Mt. Pleasant Avenue, Livingston, NJ 07039