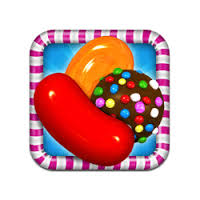 Whoever invented "candy crush" is a mad genius. The game should be called "candy crack" actually. It is beyond addicting and beyond frustrating. It is one of those games you play, you stop, you play again, you stop etc. Its a viscous cycle of trying to beat every level, getting frustrated and trying again. I hate it and love it at the same time. I find myself playing it waiting to pay for groceries, waiting to pick up my kids at school, waiting in line for the bathroom at a bar. It is a great time killer and an awful time distracter. Sometimes I am playing and I look up at the clock and hour has passed!
OMG AN HOUR!
I could have been reading a book, playing with my kids, cooking dinner but no I am playing candy crack. All of my friends have started playing as well. Its no wonder we haven't spoken in a week. We are all secretly playing. The mad genius behind this game made it so when you get to a certain level you have to "pay" $.99 to go over the bridge OR you can connect the game to Facebook and get a ticket from a friend who is also playing. So now they have your Facebook info, they took your money and the levels just get harder and harder. Do you know you can pay another $.99 to get 5 more lives? Do you know how enticing that is when you have one candy move left (you know what I mean if you play) and the game is over? How can you not pay the $.99 to complete the board??? YOU HAVE TO! This guy must be making millions… smart fucking dude.
Again, wish I thought of that!