Ain't We Sweet – Sometimes you are not!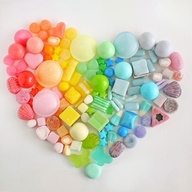 I don't really like to give the negative on stores in Livingston because, after all, I live there and I would be upset if someone was bad mouthing my store. However – sometimes you have to just let it out….
I am a big fan of the "candy tray".  I think it's a nice gift and who doesn't love candy, right? It just so happens I called "Ain't We Sweet"  to deliver a candy tray to a Shiva. Reminder:  I am calling your store to send a tray because SOMEBODY DIED.  This is not a party – this is a death. This was the lady's response " I am sorry I don't know if we can do it, it's Valentines Day tomorrow and you will have to call back later".  CALL BACK LATER! WTF! I wanted to tell this lady to take her candy and shove it up her you know where but I told her "that's fine I will take my business elsewhere"…and I did. I called Love Letters (who I should have called first) and they could not have been more pleasant. Not only did they take the order right away, they delivered that day and helped me pick everything out right over the phone.  So a big thank you to Love Letters – there will be much return business – and a Big F U to Ain't We Sweet – you lost my business forever.
Have you experienced this or is it just me?